My interview for 21st Century Permaculture
Graham Strouts on 50 Shades of Green by 21st Century Permaculture on Mixcloud
Stefan Geyer, chair of the UK Permaculture Association, interviewed me recently for his show 21st Century Permaculture.
I met Stefan almost exactly 10 years ago at the European Permaculture Convergeance in Croatia, and I started teaching permaculture at Kinsale College immediately afterwards. Since I am just about to take a years' career break (to take an MSc in Agroforestry at Bangor, Wales), and Stefan is chairing the International Permaculture Convergeance in London next week, this was a good opportunity to catch up and take stock and discuss what permaculture is and where it is going in the 21st Century.
Having had a chance to listen to it again here are a few reflections on what we discussed:
Stefan always starts his show by asking interviewees to give their definition of permaculture. This is interesting in itself- there are numerous definitions given, none of them really helping. Andy Goldring for example- who was also with us in Croatia and is current CEO of the UK PC Association, gives a very clear account of what it is: Defintion: a Design System based on natural systems for sustainability, which has Ethics and Design Principles. This is probably close to what I would have said 10 years ago- or up to just 5 years ago- but the problem is, none of this tells us what it actually is or how to do it:
The Ethics of Permaculture are generally given as "Earth Care" "People Care" and "Fair Shares". OK- but does this tell us how to behave, or even how to garden? Does it tell us whether to use GMOs or not? Does it tell us whether local food is better than global trade? One person's Earth Care is another's Eco-cide. "People Care" sounds completely wooley, and in terms of how it is mainly delivered through PC courses, it is.
This blog post by a person unknown on the UK PC Association website will not enlighten you as to what it is, and in fact is the most garbled and confused piece of writing I have read about anything in a long time:
Next, reality is extremely complex and intimidating. Food/health scares (the evils of sugar, study links red meat to cancer), violence, toxic products and climate change – to name but a few – are never off the agenda. Your confidence is shaken, perhaps you have been personally affected by these stories. And there are always people behind each story. Is caring for these people, caring for 'them', possible?
Say what? Apart from learning that Blair and Bush are "not the men for the job" it reads more like someone's untrammelled flow of consciousness. What can climate change mean for People Care- build windmills and cut back, even as a billion or two People do not yet have access to electricity? Or take the "Ecomodernist" approach of pushing towards a High Energy Planet with advanced nuclear reactors? Permaculture cannot in itself tell us which is the best way to care for either people or planet- yet there are strong but hidden assumptions that this could not involve nuclear power or fracking for natural gas.
At the forthcoming Convergeance Looby Macnamara is giving a workshop on "Personal Permaculture". She is also the author of the main text on the subject, "People and Permaculture". Drawing on Deep Ecology aswell as Ken Wilbur's "Integral" approach, along with many other strands of personal self-help and psychology, this work again tells us nothing specific: zero data or analysis on the real world of concrete choices, trade-offs and paradoxes, while she occasionally sails dangerously close to the rocky shores of woo:
In the 20 years since Rod Everett has been practising and teaching permaculture he has only visited the doctor a few times, mainly to get a diagnosis of symptoms. Homeopathy, herbs , pressure points and specific exercises have helped to balance his body. He believes everyone can unlock their potential for healing. We can enable ourselves as healers by knowing the resources we have internally available to us, and exploring the gift of healing.
(P71)
If you are looking for an example of Bad permaculture, there you go, right there. This is outright quackery being advocated here- how is that People Care in any rational sense? Homeopathy and medicine-by-anecdote is very harmful to people. If I were asked to write a People Care book I would have to start with critical thinking and how to search for evidence: the crucial first step to make a better world has to be better information and better training in how to interpret such information. Alas, I see no evidence that Permaculture can deliver this.
Similarly, the Permaculture Principles- which exist in different forms- might be a useful thinking tool for a beginner designer- "Let each element in the design have more than one function" is useful, but not specific to Permaculture- all good functional design would include multi-functional elements. For the most part, the PC Principles are just vague aphorisms, and indeed Holmgren, when he re-wrote them some years ago, linked each one with a traditional proverb: "A stitch in time saves nine" "beauty is in the eye of the beholder" "Make hay while the sun shines" and so on- invoking the common sense wisdom of our fore-father's in the homely life on the farms of yesteryear. Well, we already have the proverbs- what does permaculture add to that? Again, nothing specific- but the two of main influences on Holmgren- Steiner and Schumacher ("Small is Beautiful") tell us all we need to know: Permaculture is an ideological movement rooted in the much broader anti-modernist and retro-romantic movements that have been around since the beginning of the modern era.
This is why I gave my definition of permaculture as being a political and ideological movement rather than a system of design. Yes, there is agroforestry, and that is a real thing; but agroforestry doesn't claim to have a "whole systems approach" which by defintion means it encompasses an entirely new way of doing everything– including something as nebulous as "people care". You can do agroforestry without claiming that all agriculture must be converted to such systems in order to save the planet, and without being anti-GMO and anti- "monoculture"- which doesnt mean what people think it means, or what they learn it means on most permaculture courses.
That it claims to be a unique "holistic" design system is anyway belied by the other frequently cited definition of permaculture- that it is "Revolution disguised as Organic Gardening." This is closer to the truth- a regressive and ultra-conservative political movement, full of New Age woo and quackery, that pretends to be about gardening- but -note- *Organic Gardening*, not complex polycultures or forest gardens with tree crops and perennial understory's "Designed by Nature". Very few people have created such gardens, and Martin Crawford's successful plantation of walnuts and sweet chestnuts in Devon is essentially a true monoculture (you cannot rotate nut trees!), the grass tightly mowed beneath to ensure that the nuts can actually be collected. Yes, his nearby forest garden is fantastically diverse, full of unusual greens and fruit, but this cannot replace broadscale grains produced in ever-increasing yields by Big Ag.
The vast majority of permaculture course graduates will not know this however, they will leave instead convinced they can replace the evils of modern agriculture with forest gardens full of Gingkos and Turkish Rocket without ever having to have compared yields. Permies dont do numbers.
And after all that, mainly they will go forth and do normal Organic gardens with rows of carrots and broccoli. This is the reality of permaculture in the real world, as practiced by thousands of design course graduates: sure, fruit and nut trees, but mainly, for the most part, just annual veg.
John Seymour would be proud- in truth, there is little to distinguish anything you will find in permaculture- including pig tractors!- from what he was writing about in the self-sufficiency movement of the 1960s and 70s. Permaculture is basically that plus a load of New Age faff and Dark Green political activism.
Undeterred by my "sharp and bitter" critiques of the movement, Stefan was keen to defend it, largely on the basis that getting out into Nature from the city is really good and anything that can help people experience this has got to be good. Ah, but that is exactly how cults work- there are thousands of ways people can get out into nature, from wildlife and hiking groups, to family fun days and camping holidays. What does permaculture have to offer that is extra? See above- the ideology- that modern life is rubbish and humans are bad and destroying the environment, and that we need an entirely new World Order, a complete system overhall, one that Permaculture can offer and that will make everything Whole and Nice and Pure again.
How many permaculture course invite people to consider that we need technology to protect ourselves from Nature? That being materially wealthy in an industrial society allows us to enjoy the natural world far more, without being at its mercy, either from being eaten by a bear or starving to death? How many even learn enough about history and ecology to understand that in most of the world, what passes for natural beauty has been almost entirely re-written by the hand of Man?
Stefan said interestingly that he had met representatives from nearly every position on my 50 Shades of Green spectrum at permaculture courses over the years. He could be right, but they would hardly be evenly spread: though regrettably I lack the data to prove it, the overwhelming majority of people in the permaculture world would sing to the same hymn sheet: anti-GMO, anti-Big Ag, anti-fracking, anti-nuclear; pro-Organic, pro-alternative medicine, and anti-capitalist; a smaller percentage but still significant would be anti-science and adopt varying degrees of New Age beliefs, Biodynamics practices, faeries, magic and astrology or whatever you are having yourself. Permaculture is a bit of a free-for-all in that sense, but since it is part of the broader Food Sovereignty movement, and increasingly political in tone, I do not think Stefan is correct to say that GMO advocates for example are represented in permaculture.
I should clarify one point that I made in the interview: I said the "overwhelming majority" of my students were anti-GMO. In fact this is an exaggeration- there was a much wider spectrum of views amongst students than that, although it would still be true to say I think that the majority of those coming to the course would start with anti- views or at least suspicions of.
One girl who came for an interview said she wanted to help solve some of the many problems in the world. "Which ones?" I asked. "Monsanto's Terminator seeds" she shot back. I assured her that these had never been used (although it might solve other issues if they were). "They must be!" she replied.
On another occasion, after a class in which I had given some scientific references on the subject of genetic engineering, I was pressed into having a class meeting, as some of the students had issues with the way I was delivering the course. Very reluctantly, I agreed. We sat in a circle, some 20 or so of the class, and I began, "So it appears that some of you feel my classes are biased. Is that what people think?"
About 7 or 8 hands went up and one by one each and every one of them told the class that they did not think I was biased, that they found the classes stimulating and informative, that they appreciated what I was doing. Not a single one of the Dark Green students was prepared to openly criticize me to the group.
This was one of the highlights of my years teaching permaculture, and if any of those who supported me on that day are reading this now, I salute you.
The political -and philosophical- stance of permaculture is best expressed in this recent superb post by Tamar Haspel:
There's an unbreachable divide between advocates of modern conventional agriculture and, essentially, everyone else, from the mainstream (organic, local, anti-GMO) to the less-so (biodynamics, permaculture, agroforestry). The parties are entrenched, the tone is partisan. But I think we ought to be able to get along, because all hard-core advocates of this or that food philosophy have two things in common: They're paying attention, and they're wrong.
I hope you enjoyed the interview, as I did, and I would like to give a big thanks to Stefan who did a great job, and especially for having the open mindedness to interview such a Permaculture Pariah!
Posted by skepteco on September 2, 2015
https://skepteco.wordpress.com/2015/09/02/what-is-permaculture/
Has the Observer become like Natural News?
You would be forgiven for thinking so on reading today's issue which carries an article by one Lucy Siegle with the alluring title "Are biodynamic products worth the money?"
Hmmm tricky one that, let me think for a minute… no. Actually, no.
That is because they are nothing more than products of Organic farming with a load of whackeroonery added- astrological plantings and weird and somewhat unsavory compost preparations which employ such exotic techniques as burying cows horns stuffed with manure at certain phases of the moon. Siegle explains:
Growers are famous for planting according to the phases of the moon and burying cow horns filled with "preparations". Actually there's method in both these forms of madness: research shows that plants respond differently to different moons, absorbing more water during the full moon, for example. As for the animal horns, silica is extracted from them as the elements break down, maintaining soil fertility.
Wat? Research? I dont think so- plants do not respond to tidal forces exerted by the moon, but even if they did, this is not what Steiner said- he claimed that fruit should be gathered on "fruit" days (according to the Moon Planting Calender) Flowers on "Flower Days" and so on- ie that the supposed moon influence actually differentiates between differnet parts of different plants depending on which part we humans are interested in eating. A quaint if rather anthropocentric view of the Cosmos- the Stars and the Planets all revolve around for our benefit, how lovely.
But wait- we Noes Dis is Trues because as Siegle tells us, Steiner was a scientist!
Based on scientist and philosopher Rudolf Steiner's anthroposophical theories, biodynamics is a "holistic and regenerative farming practice".
Nooo! Steiner was not a scientist. He was an esoteric looper who believed that his gardening methods would help bring down "etheric energies" which would transmute into spiritually purer food and hence a spiritually purer race. Purity of the Soil would lead to Purity of the Food – and so Purity of the Race. Yes, that is correct- Steiner's religion Anthroposophy, unbeknownst to the innocent Observer readers and purchasers of fine Biodynamic Wines, is really a system of Kharmic racism. That might explain its popularity in Nazi Germany. Seriously.
"Ah!" I hear you cry, "but I went to a Biodynamic Farm and saw lovely vegetables and drank lovely Biodynamic Wine- weird and mystical though it may sound, this stuff actually works!!"
Well Duh, if you are a good gardener and do most things right- sow the seed in warm soil at the right time of the year, not too deep, protect from vermin and heavy rain and cold, weed and water, feed and nuture, then you should get perfectly fine produce. Sacrificing Reason on the Altar of whacked out cultish pseudoscience will not add anything else I'm afraid to say- and yes, the actual science has been done on this.
is one of the UK's most recognisable opinion forming journalists on environmental issues and ethical consumerism, devoted to widening their appeal. She is also a knowledgeable and experienced awards host and keynote speaker, and is a regular presenter on The One Show.
This is bad news for people's opinions on environmental issues so, and barely elevates the Observer to the comic-book status of Natural News.
And as if to add insult to injury, with reference to some of the comments, Alicia Hamburg points out on Twitter:
@Skepteco @ThetisMercurio not even giving due credit to gnomes — how negligent.

— alicia hamberg (@zzzooey) August 16, 2015
A more shocking indictment I can hardly imagine…
Posted by skepteco on August 16, 2015
https://skepteco.wordpress.com/2015/08/16/natural-news-observer/
In my former peak-oil days, I was a fan of James Howard Kunstler, and read both his fiction and non-fiction work, taking him seriously as a critique of the American zeitgeist. I was disappointed though to read this recent article by him in response to a recent NY Times article about the defusing of the population bomb:
One main contention in the story is that the problem of feeding an exponentially growing population was already solved by the plant scientist Norman Borlaug's "Green Revolution," which gave the world hybridized high-yielding grain crops. Wrong. The "Green Revolution" was much more about converting fossil fuels into food. What happens to the hypothetically even larger world population when that's not possible anymore? And did any of the 23 journalists notice that the world now has enormous additional problems with water depletion and soil degradation? Or that reckless genetic modification is now required to keep the grain production stats up?
Kunstler obviously fails to understand the demographic transition, which is driven not by providing more food, but first by controlling the death rate: modern medicine, vaccines and sanitation lead to lowering of infant mortality and longer life-expectancy; since birth rates at this stage remain high, the population rapidly increases, which is precisely what lead to the "population  bomb" scares of Ehrlich and others in the sixties. Mathusian fears of die-off as a result of being unable to feed the consequent teeming masses were indeed solved- if not completely, but to a large extent- by Borlaug and the Green Revolution. Ehrlich was proved wrong- he said, definitively, "the battle to feed the world's population is over". He didn't say "unless we figure out how to convert fossil fuels into food".
In any case, the amount of fossil fuels that are actually used to produce food is relatively small:
In the USA in 2004, 317 billion cubic feet of natural gas were consumed in the industrial production of ammonia, less than 1.5% of total U.S. annual consumption of natural gas. A 2002 report suggested that the production of ammonia consumes about 5% of global natural gas consumption, which is somewhat under 2% of world energy production.
And of course, as Kunstler well knows, the shale revolution has massively increased the supply of natural gas in his home country -the cognitive dissonance required to ignore this as if nothing has happened in the past 10-15 years is staggering. Maybe the reality of increasing resources as a result of technological advances is simply incompatible with the narrative of Peak Oil Doom on which JHK has based his entire writing career, just as the reality of declining birth rates is just too challenging for Ehrlich.
Later in the piece Kunstler randomly mixes up turmoil in the Middle East with over-population issues, again ignoring the fact that one of the reasons for instability in Saudi Arabia is precisely  that they are no longer the world's swing producer as a direct result of the revived US shale boom, which is decreasing the dependency of the West on OPEC.  It seems there is no pleasing Kunstler though.
Kunstler then goes onto finger "reckless" genetic engineering which displays ignorance of the highest order- all farming starts with plant breeding, changing wild plants beyond recognition to provide better yields for us humans to chew on. Far from reckless, genetic engineering is the most precise and regulated and tested form of plant breeding ever. Not only that, but GM crops have already been shown to reduce reliance on tilling, pesticides and fertilisers,
-thus reducing fossil fuel dependency and environmental impact while maintaining or even help increase yields.
Like Ehrlich- who " still seems to think that getting rid of girls is a capital idea" Kunstler is molded in the tradition of many of the early-20th Century environmentalists, elitists who prefer peasants who know their place, harmoniously working the land and not upsetting the Natural order. This is reflected in the accolades showered on Ehrlich by environmental institutions such as the WWF, a major environmental NGO with roots in eugenics and deeply conservative and traditionalist ideologies. In another recent article on Ehrlich, author Jonathon Last writes
Of course, it's been obvious that Ehrlich was not just misguided, but an actual charlatan, since the 1970s…..

Other people caught on to Ehrlich over the years. In her book about sex-selective abortion, Mara Hvistendahl has a long, devastating interview with Ehrlich in which she probes his errors, pushes him for accountability, and reveals him to be a doddering, foolish, old man wedded to a political ideology and with no interest in science, demographics, or even basic math. And Hvistendahl is a progressive feminist in good standing.
In a fascinating review of post-apocalyptic literature, Michael Potts shows how in Kunstler's fictional writings, "the myth of feudal obligations and care in a hierarchical society is resurrected and its loss is related to decline and degeneration."
Like other traditionalists like Vandana Shiva, Ehrlich and Kunstler are more about lamenting a lost world of aristocrats and peasants than they are about addressing real environmental problems.
Posted by skepteco on June 5, 2015
https://skepteco.wordpress.com/2015/06/05/peak-oil-will-never-die/
By chance I happened to be in Dublin on Sunday night at the Abbey Theater for the last of a series of Climate Conversations, "The Call to New Horizons".
"Bringing People Together for a New Understanding on Climate Change" – a series of conversations hosted in partnership with Christian Aid, the Environmental Pillar, Ibec, the Irish Congress of Trade Unions and Trócaire.
We missed the beginning but caught a couple of fascinating presentations, the first by field archaeologist Michael Gibbons, and the second by visual artist Dorothy Cross.
Both were only tangentially connected with climate change, though both indeed dealt with change, of both nature and culture.  Gibbons talked about  the layers of settlements in the changing landscape of the west of Ireland over millenia, and how they had both shaped and been shaped by environmental change.
Dorothy Cross explained that a lot of her work "is about trying to find the residue of life -which sadly is through death- and take that and bring it to the studio, and try to relate the bones or the skin of something that once existed to make us look at our own perilous natures."  This she then related to climate change which she referred to as "monstrous", a symbol of the perilous state of the whole of nature, or so she believes.
To illustrate her work she  showed us two remarkable videos from the island  of New Ireland off the coast of Papua New Guinea, about the dying practices of shark singing- yes, literally luring sharks into traps by singing- and octopus hunting.
In the first video, Cross shows a woman hunting an octopus with a spear. Barely able to swim herself, it takes her some 7-8 minutes to catch her octopus, a daily necessity for food.
The octopus hides in a hole in a rock and expands its body to resist capture; the woman waits while children swim out to her with poisonous leaves which she dives down again to poke into the hole forcing the tiny octopus to give itself up. It barely made a meal- the people there live precarious lives as there is less and less fish to catch, and as development slowly arrives on this remote island, this way of life captured on film is now almost gone.
In the second film Cross showed footage of one of the last shark singers, no longer allowed to go shark hunting himself as he was ostracized by the younger generation of fishermen who believed he had lost his magic, wiping tears from his face as he sang his mournful song for the camera.
I was still thinking about the harsh lives of the shark singers and the octopus hunters when I awoke the next morning and heard on the news the strange story of the Lobster Liberation that took place last Friday evening:
A GROUP OF animal rights activists say they 'liberated' nine lobsters by walking into a Dublin restaurant and pinching them from a fish tank.

The caged crustaceans were being kept in the tank in the window of Ka Shing Chinese restaurant on Wicklow Street before the gutsy rescue mission.
There were several news items covering this during the day and a couple of interviews with one of the vegan activists, who calmly and clearly stated that killing any animal is "murder" and abhorrent and unnecessary;
now I am not fond of shellfish, am allergic to shrimp, and do indeed find the idea of boiling lobsters alive somewhat abhorrent;
but I couldn't help wondering whether that idealistic young activist from the National Animal Rights Association, should she ever encounter that octopus hunter- living at the time in a cash-less economy, with virtually no access to any of the amenities of the modern world, and relying on a diminishing stock of ever smaller octopuses to feed her family- whether she would see her also as a murderer, and whether she would consider it a valiant act of liberation to sabotage that hunt.
Posted by skepteco on May 12, 2015
https://skepteco.wordpress.com/2015/05/12/lobster-liberation/
Is there anything more ridiculous and confused than Saturday's Climate March in London? Apparently it was attended by some 5000 people- about the same number who would visit the London Eye every 90 minutes. The problem with marches is that they are good at addressing specific black-and-white issues: as a student I attended several marches in which we demanded more money for ourselves as students. I also attended single-issue protests such as demonstrations against nuclear power and nuclear weapons. How does this translate into something as complex as climate change- which has been characterised as a wicked problem -something with no straight forward solution and where the responses can very easily turn into boondoggles which make things worse. The problem with the climate change movement is that it has basically tried to position itself in much the same way, and so takes the form as a campaign against fossil fuels- which pretty quickly becomes a campaign against capitalism. This is clearly seen in the current Guardian advocacy series on climate which draws heavily on Naomi Klein's book This Changes Everything. There is an interesting review of Klein's book by Joseph Heath here. Heath points out that Klein is more concerned about how decarbonisation is achieved rather than actually achieving it- and because her whole thesis rests on the assumption that "climate science has handed them the most powerful argument against unfettered capitalism…" (is there a scientific consensus on this?) this means primarily taking pot shots at the fossil fuel industry. No surprise to see this reflected in the posters carried aloft on last weekend's march, with one of the causes du jour, the anti-fracking movement jumping on the climate change bandwagon: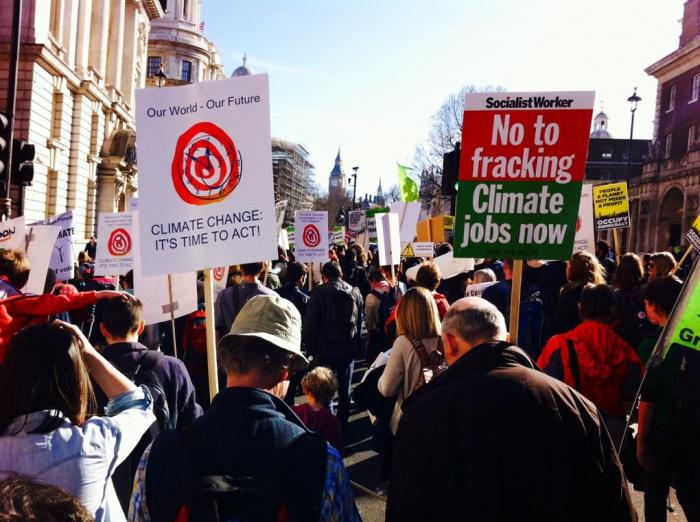 This is a profound confusion- a switch to natural gas that would be enabled by fracking in the UK and elsewhere is likely one of the fastest ways to reduce CO2 emissions, by replacing coal which emits twice the CO2. Science communicator and researcher Alice Bell posted her own home-made placard on Twitter after due thought and consideration: https://twitter.com/alicebell/status/574193113205510145 Why indeed- oh, well maybe to get to work, keep warm, eat and stuff like that was my reply. Fossil fuels are useful- extremely so- it is not stupid to use them, in fact it would be stupid not to. You might need them to travel to your next climate march for example- or use them as feedstocks to make plastic placards (ful marks to Alice for using recycled cardboard for hers). How about this one?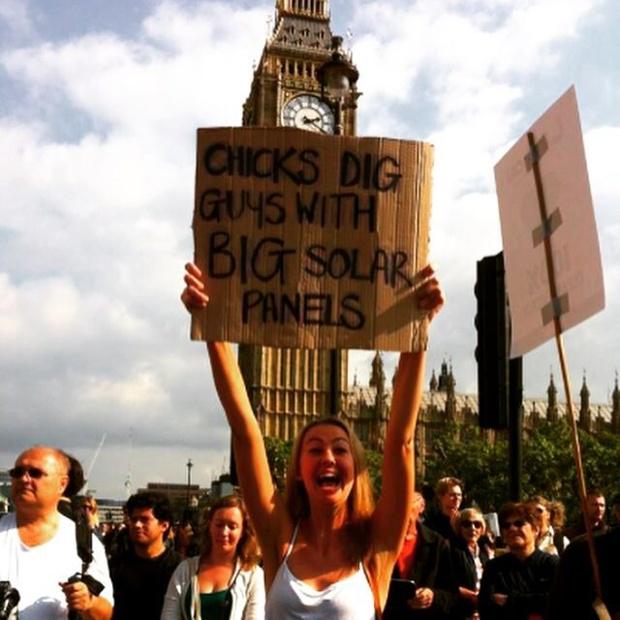 Chicks dig guys with unreliable and intermittent performance? I don't think so- not the chicks I have known in any case. We cannot just ban fossil fuels in the same way we banned or heavily regulated CFCs through the Montreal Protocol – in that case, the technology already existed for replacements and in any case CFCs were not the life-blood of the global economy in the same way that fossil fuels are. A March Against Fossil Fuels is more symbolic of a March Against Reality:   Despite the much-touted "consensus" on the science climate change, there is no consensus on what to do about it, and the many difficulties of replacing fossil fuels are not easily explained on simplistic placards aimed at herding  protestors with a single unified message. Moreover, Klein- along with much of the marching environmental movement- is strongly opposed to the one technology that could ultimately replace fossil fuels, for much the same reasons- capitalism. So, Klein invokes the scientific authority of James Hanson for his warnings of the dangers of climate change- but in the same breath rejects entirely his advocacy for CO2-free nuclear power as a solution. That technology is nuclear power. The fact is, as Kirsty Gogan of Energy for Humanity explains in the video below, most western nations could have already decarbonised their economies with nuclear power, as the French did more than 30 years ago- but the environmentalists stopped them. Now, if there was a march demanding "Nuclear Power Now!" – that would be a march I could believe in.
Posted by skepteco on March 9, 2015
https://skepteco.wordpress.com/2015/03/09/march-against-reality/
A Spectrum of Environmental Thought
"You seem to spend a good bit of time slagging off environmentalists" complained a particularly earnest student to me recently. His gripe seemed to be to do with some fairly incidental comments I had made in passing about fracking being OK in principle, and Permaculture offering no silver bullet for delivering sustainable agriculture.
The thing is though, who are these "environmentalists" of which we speak? It is misleading to speak about "environmentalists" as if they all agree on things like nuclear power or GMOs; in fact, when it comes to the Green movement , we are talking about a very broad church indeed.
Here then, is a selected range of thinkers, movers and shakers on environmental issues, most of them who would identify with being "environmentalists" in some way. This also roughly equates with Professor Steve Fuller's suggestion (see below) that we are seeing a dramatic 90-degree shift in the poles of political thought- no more so much "Left wing" and "Right wing", much more "Down-wingers" (Dark Green environmentalists) and "Up-wingers" (eco-pragmatists and technophiles).
As we move through the spectrum, we see a shift from focus on the Precautionary Principle with regard to technology- a general aversion to any more "meddling with nature"- and gradually move closer to Fuller's "Pro-actionary imperative"- the view that as humans, we are all but compelled to keep innovating and developing new technologies, leaping further into the unknown of the future, if we are to continue to thrive.
There are of course hundreds more writers I could have included. The exact placement of each writer is open to interpretation, and not intended to be precise, not least because many will be further one way on some issues (eg nuclear power or climate) and further the other way on others.
Here we go then- 50 Shades of Green:
Dark Green
This end of the spectrum tends to be quite extreme and ideologically motivated, characterised as:
-anti-capitalist
-Suspicious of technology
-romanticizing the past
-romanticizing "Nature";
tends to make apocalyptic predictions- the "Doomers";
emphasis on "over-population";
follows "Limits to Growth" philosophy: the Earth's resources are finite, and humanity is approaching the limits- soon there will be severe shortages of energy, minerals, food, leading to a likely population collapse;
Peak Oil= Peak Energy- humans are like "bacteria on a petri dish" and subject to the same laws of limits as other species- it is only our hubris and arrogance that blinds us to this truth;
Humans must cut back and end economic growth, restrict use of technology, live simpler lives;
Moralistic- Humans are an inherently malevolent influence on the planet
Often Misanthropic = human-hating- seeing Nature as Pure and Humans as Polluted.
At the very extreme end of the spectrum…
Eco-fascism: eg Nazi Germany- Rudolph Hess was a leading Nazi Nature Mystic who believed the purity of the German race was intimately connected with the purity of the Land and its Soil –Blut und Boden– ("Blood and Soil")- the Nazis were the first and only movement to promote Steiner's mystical practice of Biodynamics on a large scale, which was also inspired by this view;
The Nazi mystics believed there to be a powerful, ordained connection between Das Volk and Das Vaterland– the notion of a sort of chosen land for a chosen people, the Aryan race. This link was expressed naturally enough through farming practices, which needed to be "pure" so as not to pollute the blood through "unclean" food. Purity of the soil- the Land- meant purity of the food; purity of the food maintained purity of the Blood- and therefore, purity of the Race.
Organic farming emerged after this time as a reaction against the rise of industrial farming which was seen as polluting, not just the soil and the land, but the Race.
This kind of thinking, while not explicitly racist in content, can still be found underpinning the Darker side of the Organics and anti-GMO movement. In many ways, the foodie movement in general is best seen as versions of Kosher foods- a modern take on the age-old tradition of identifying ones tribe by the food it eats. "Pig meat unclean" and only eaten by the Infidels becomes "GMOs unclean".
This position is perhaps best exemplified in the figure of Dr. Vandana Shiva, who, while feted widely by western environmentalists who would prefer to see themselves on the Left, in her native country is more closely identified with right-wing nationalistic interests who shun modernity and have vested interests in the maintenance of the caste system.
Anarcho-primitivsism- Derrick Jensen "The Culture of Make-Believe"
We are the first generations to grow up surrounded by evidence that our attempt to separate ourselves from 'nature' has been a grim failure, proof not of our genius but our hubris. The attempt to sever the hand from the body has endangered the 'progress' we hold so dear, and it has endangered much of 'nature' too. The resulting upheaval underlies the crisis we now face.
– from the Dark Mountain Manifesto
Thomas Malthus 1766-1834- predicted food supply would fail to keep up with population increases, leading to inevitable famines;
Paul Ehrlich The Population Bomb 1968:
The battle to feed all of humanity is over. In the 1970s and 1980s hundreds of millions of people will starve to death in spite of any crash programs embarked upon now. At this late date nothing can prevent a substantial increase in the world death rate…
Giving society cheap, abundant energy … would be the equivalent of giving an idiot child a machine gun.
– Paul Ehrlich, "An Ecologist's Perspective on Nuclear Power",
May/June 1978 issue of Federation of American Scientists Public Issue Report cited here
Silent Spring Rachel Carson 1962
Limits to Growth 1972 Club of Rome report by Meadows and Randers;
Jared Diamond 2005 Collapse: How Societies Choose to Fail or Succeed
Richard Heinberg The End of Growth 2011
Heinberg is an influential figure in the Peak Oil movement, which sees the peaking in world oil supplies to be happening now and leading to inevitable collapse of modern industrial society;
Transition Towns Network
A world-wide network of community projects started in Tones, Devon in 2004:
is a charitable organisation whose role is to inspire, encourage, connect, support and train communities as they self-organise around the Transition model, creating initiatives that rebuild resilience and reduce CO2 emissions…Ultimately it's about creating a healthy human culture, one that meets our needs for community, livelihoods and fun.
TTN promotes the urgent need for a response to the "twin threats" of Peak Oil (resource depletion) and Climate Change (pollution of the Global Commons) by forming re-localisation projects. The vision appears to be a return to more-or-less self-sufficient local and regional communities growing their own food and producing their own energy and other resources, in a general move away from globalisation, technology and progress; they could be characterized as a "neo-feudal" movement.
Supporters and alliances include Prince Charles and the Schumacher College; their seems much in common with the ideology espoused by Rudolph Steiner and other early 20thCentury reactions against modernity.
Permaculture –again, closely aligned with and informing of Transition, Permaculture began as a landscape design method, but now represents a very broad movement claiming to work towards a "Permanent Culture", Permaculture clearly began as a reaction against industrialisation and modernity and a conviction that society is surely doomed should it continue down its current path;
Also linked with Anthroposophy, Organics and the Food Sovereignty Movement.
The giant multi-national green NGOs Greenpeace and Friends of the Earth probably fit in around about here, with a strong anti-GMO and anti-nuclear stance;
George Monbiot
Monbiot is one of the UK's leading environmentalists, and aligns strongly with the anti-capitalist, anti-corporate Left; but he also has links with Dark Mountain and the darker Greens on many issues, while at the same time breaking ranks in a rather fundamental way through his advocating of nuclear power as the "lesser of two evils" when considering the need for base-load low-carbon energy to tackle climate change.
***
Thus far those cited have tended to believe in the inherent unsustainability of the modern world and call with varying degrees of urgency and optimism for a retreat "back to Nature";
Coupled with this is frequently found at root a rejection of Enlightenment values- which see human agency as liberating us from the confines of an often merciless "Nature"- as hubris. Instead, they argue, the escape from "natural limits" is a dangerous illusion.
Most mainstream environmentalism including the Green parties of Europe and the US tend towards this view.
Now we look at those who support conservationism and environmental protection in various guises, but who see this as best happening in the context of modern industrial society which should continue to use human ingenuity and technology to solve environmental problems without a wholesale abandonment of modernity:
Eco-Pragmatists:
Sometimes also known as "neo-Greens";
Mark Lynas
The myth of Easter Island's Ecocide
In this article, Lynas points to recent research suggesting Diamond (above) was wrong to point to Easter Island as a metaphor for ecological over-shoot and collapse.
Lynas falls between the two ends of the spectrum as he also has very dark views of potential climate apocalypse (viz his 2006 book "Six Degrees" and more recent "The God Species" about planetary boundaries.)
Other thinkers are less concerned about any concept of absolute boundaries.
Eco-pragmatists believe technology can really help the environment- indeed, it is unethical in the extreme to abandon the poor, and they see bringing the rest of humanity out of poverty to be the number one priority. As people become wealthier they naturally take more care of the environment and reduce family size;
See Maslow
Advanced technologies like nuclear power and genetic engineering are cleaner and can both feed and bring energy to the world and help solve some of the problems of earlier technology; "Nature" is something to conserve, but not something we should be aiming to return to.
The maverick scientist is the hardest of anyone on this list to categorise- on the one hand, his Gaia hypothesis inspired a generation of Deep Ecologists, and also the broader environmental movement, to think differently about the planet; on the other hand he has in recent years made a dramatic turn-around from stating climate change will result in the end of humanity, to "noone really knows" and advocating technofixes including fracking, nuclear power and the geo-engineering.
Hans Rosling Population Growth
TED Talks: Global Population Growth
Rosling shows how development and the demographic transition is leading to a reduction in fertility rates and decline in population growth rates, which is happening all over the world more rapidly than expected.
Essential viewing: The Magic Washing Machine
Emma Marris Rambunctious Garden: Saving Nature in a Post-Wild World
Fascinating look at changing perspectives in ecology and conservation in a world where very little if any "nature" that hasn't been modified by humans remains.
Peter Kareiva, Chief Scientist at the Nature Conservancy.
In this talk, Kareiva takes issue with the romantic notions of Nature of Thoreau and Edward Abbey.
Failed Metaphors and a New Environmentalism for the 21st Century
Stewart Brand Whole Earth Discipline
We are as Gods – and must get good at it.
Brand, one of the founders of the environmental movement and a pioneer in permaculture and appropriate technology in the '60s, discusses 4 Environmental Heresies:
-cities are green
-nuclear power is green
-genetic engineering is green
-geo-engineering is probably necessary to tackle climate change.
Nordhaus and Shellenberger and the Breakthrough Institute: The Death of Environmentalism
-a Key article from critics of the mainstream environmental movement
Norberg and Shellenberger reject the idea that it is human population and overall human impact that is the problem, instead embracing enlightenment values, seeing technology and human progress the key to solving climate change and other environmental issues.
Daniel Botkin Botkin challenges the "Balance of Nature" narrative in Darker Green Environmentalism
Matt Ridley The Rational Optimist
To go back to Nature would be a disaster- for Nature
Self-sufficiency is poverty.
Ridley believes human beings became the dominant species through innovation, specialization and trade, aided by our unique ability to communicate through language;
the "optimist" in his book's title places him further towards the "upwing" of the spectrum, believing that technological innovation can continue to improve life for humans, overcoming environmental problems;
unlike most of the previous writers, he is controversial and outspoken on climate change, believing it to be less of a threat than the Darker Greens.
Bjorn Lomborg–
The Skeptical Environmentalist 2001
Cool It! 2011 Book and Film
key article: Lomborg Explains how to Save the Planet
How we live today is clearly unsustainable. Why history proves that is completely irrelevant.
Lomborg was influenced by Julian Simon (d.1998)
In The Ultimate Resource (1981) Simon argued that human innovation and economic forces would always overcome apparent or temporary resource limits, as in the saying "The stone-age didn't run out because we ran out of stones"- in other words, we will always be able to find better substitutes long before a resource actually expires.
Lomborg continues to be skeptical of the more doom-ridden end of the spectrum, and in particular, while accepting that man-made climate change is a problem, believes the mainstream policy response is all wrong, and the key is once again technological innovation- we cannot move away from fossil fuels until we have a cleaner alternative that is also cheaper- and in the meantime there are far more pressing human and environmental problems we should be spending our money on solving.
Patrick Moore Confessions of a Greenpeace Dropout 2010
http://www.greenspirit.com/index.cfm
Pure science made me a Greenpeace drop-out.
Moore believes much of the "Dark Green" environmental movement had become irrational and reactionary and anti-science.
More than other "eco-pragmatists" mentioned, Moore is skeptical of the science behind man-made climate change, tending to argue that CO2 plays little if any role in warming the planet, and is certainly not a risk.
At the extreme end- Promethean Greens
Believe technology and human innovation will ultimately lead to a better environment- there is no "Nature"- only what humans decide will remain;
Even asteroid-mining or deep space travel will be possible eventually;
Transhumanism– human-computer link-ups; nano-technology; and even eternal life after the Singularity is reached and life-expectancy advances faster than real time.
Eg Jacques Fresco's The Venus Project
See Mark Stevenson An Optimists' Tour of the Future for an entertaining survey of future technologies that may not be that far off.
As mentioned in my intro above, in his 2014 book The Pro-actionary Imperative Professor Steve Fuller takes issue with the dominant Left-Right dichotomy, instead positing "Down-wingers" (anarchist Deep Ecologists and Conservatives) and "Up-wingers" (Marxists and Libertarians). He himself advocates Transhumanism as a political strategy, embraces technological fixes- but, in sharp contrast to the more secular/atheist tendencies of other Prometheans, this emerges from his Christian belief that God made us in his image ie our destiny therefore is to literally become As Gods, and not just metaphorically as per Stewart Brand. Successful risk-taking is what has made us human, and the last thing we want to is allow the Dark Greens to slow this down.
***
So there you have it. Let me know if you think there are any major omissions. In truth, we are all environmentalists– once we have sufficient wealth and security to worry about things beyond our immediate survival.
Posted by skepteco on February 22, 2015
https://skepteco.wordpress.com/2015/02/22/50-shades-of-green/
Book Review:
The Moral Case for Fossil Fuels
Alex Epstein
Portfolio/Penguin 2014
Kindle Edition
Energy is a life and death issue—it is not one where we can afford to be sloppy in our thinking and seize upon statistics that seem to confirm our worldview. -Alex Epstein
Everyone knows fossil fuels are Bad. Bad for the planet, Bad for the environment, Bad for people. They pollute the atmosphere and groundwater, destroy whole eco-systems, and worst of all are responsible for the wholesale eco-cide of the entire biosphere through unstoppable apocalyptic climate change.
But wait, urges Alex Epstein, author of the recent book The Moral Case for Fossil Fuels. Isn't there something important missing from this narrative of Bad Guy Fossil Fuels? Indeed we might ask, as Monty Python did of the Romans: What have fossil fuels ever done for us?
…apart from education, roads, hospitals, sanitation, and a vastly increased life expectancy… in fact, pretty much everything that makes life in the modern world worth living.
This is the passionate moral case for fossil fuels that Epstein develops in his eminently readable and clearly-laid out book, and through his organisation The Center for Industrial Progress:
contrary to what nearly everyone has been brought up to believe in these strangely post-modern and relativistic times we live in, fossil fuels are not just good, but a moral necessity for the foreseeable future, a human right no less, and it is about time people started making an unequivocal stand for them.
Taking on the Big Guns of the environmental movement such as Bill McKibben, Paul Ehrlich and Amory Lovins, Epstein shows that not only have they been spectacularly wrong in their predictions but that there is a fundamental flaw in their moral philosophy:
The environmental thought leaders' opposition to fossil fuels is not a mistaken attempt at pursuing human life as their standard of value. They are too smart and knowledgeable to make such a mistake. Their opposition is a consistent attempt at pursuing their actual standard of value: a pristine environment, unaltered nature. Energy is our most powerful means of transforming our environment to meet our needs. If an unaltered, untransformed environment is our standard of value, then nothing could be worse than cheap, plentiful, reliable energy.
This muddled and dangerous way of thinking has become mainstream, infecting our education systems and politics so much that speaking out in favour of the dirty black stuff we dig out of the ground to fuel our civilisation must be the highest form of heresy. Even oil giants such as ExxonMobil and Shell have pandered to environmentalist agendas- for example by avoiding any mention of the word "Oil" on their Homepages, and paying lip-service to renewables and the "idealism" of their opponents without challenging the basic moral argument- something Epstein takes strong issue with in his section "What the Fossil-Fuel Industry must do".
What is at the heart of this irrational objection to the wonders of cheap energy?
The reason we have come to oppose fossil fuels and not see their virtues is not primarily because of a lack of factual knowledge, but because of the presence of irrational moral prejudice in our leaders and, to a degree, in our entire culture.
But fossil fuels are non-renewable! I hear you say. Is it not crazy to base a society on an essential mineral that is going to run out?
-but predictions of "peak oil" and fears over shortages have been with us since the beginning of the Oil Age- the reality is, we have barely scratched the surface, literally, in terms of the resources that are there in the earth's crust waiting for the technology to arrive to extract them: the data does not lie- even as our populations grow and demand for energy increases and extraction rises to keep pace, paradoxically fossil fuel reserves continue to grow.
The problem is not the lack of resources, but the increasingly tight straight-jacket being placed around the freedom to extract them:
Our concern for the future should not be running out of energy resources; it should be running out of the freedom to create energy resources, including our number-one energy resource today, fossil fuels.
Ultimately, advanced nuclear energy- the only scalable energy source that is more (potentially far more) energy dense than oil and gas- may step in to drive what will be the greatest energy transition of all time; but although nuclear should still be supported whenever possible, this will take decades- and nuclear, as we all know, is not even considered as an option by most environmentalists.
What about direct pollution from extraction? Naturally, Epstein does not dismiss the obvious downside to mining and drilling- there is certainly an environmental and human-health cost. But what is missing from the general public debate is that as wealth increases as a result of access to energy, so does our ability and desire to clean up the environment. British cities like London were far more polluted by smog in the early industrial era than even Beijing is today. Furthermore, we choose in today's world to spend some of our fossil-fuel wealth on environmental protection, wilderness preservation and so on, something poor countries cannot easily afford to do. The downsides make fossil fuels an easy target- the overwhelmingly net positive benefits to human life and the environment are generally ignored.
Pessimistic predictions often assume that our environment is perfect until humans mess it up; they don't consider the possibility that we could improve our environment. But the data of the last forty years indicate that we have been doing exactly that—using fossil fuels.
Shouldn't we be switching to cleaner energies such as wind, solar and hydro anyway? Apart from the fact that most environmental groups have been busy vigorously opposing hydro-power in much of the world for the past 30 years, the fact is that there simply is no good affordable, scalable alternative to coal, oil and gas at present. Renewables are sometimes dubbed "unreliables"- they don't work all the time and they need a gas or coal back-up in any case. More than that, they have far lower energy density than the fuels they pertain to replace, in some cases by two or more orders of magnitude.
It seems that there's more focus on getting energy directly from the sun, which is often considered "natural," than there is on getting it in a way that will maximize human life. It is deeply irresponsible and disturbing that environmental leaders are telling us to deprive ourselves of fossil fuels on the promise of what can charitably be described as a highly speculative experiment, and can less charitably be described as an ill-conceived, resource-wasting, perennial failure.
Epstein goes onto point out that tens of thousand of giant steel wind-turbines are hardly "renewable" in any meaningful sense, even if the wind is:
For something to be cheap and plentiful, every part of the process to produce it, including every input that goes into it, must be cheap and plentiful.
Renewables are low-density, extensive technologies that, if unrolled on the vast scale that would be required for them to really replace much energy-dense coal or gas, would certainly have an immense negative environmental impact on the land where they are installed, but also in the pollution caused by their manufacture. Epstein notes wryly
Fox could make a far more alarming movie than Gasland based on supposedly risk-free solar and wind technology. Imagine a scene at a rare-earth mine in a movie called Wasteland.
In short, Epstein makes clear that trying to replace energy-dense fossil fuels with diffuse intermittent renewables is a recipe for disaster:
If fossil fuels have catastrophic consequences and it makes sense to use a lot less of them, that would be an epic tragedy, given the state of the alternatives right now. Being forced to rely on solar, wind, and biofuels would be a horror beyond anything we can imagine, as a civilization that runs on cheap, plentiful, reliable energy would see its machines dead, its productivity destroyed, its resources disappearing.
At the core of the moral issue must be energy access for the couple of billion in undeveloped countries who currently lack pretty much any access to cheap energy at all: they tend to be very poor with low life-expectancy and high infant-mortality, little educational opportunities and poor or non-existent health services. Yet as a result of the environmental agenda's influence on current policy, they cannot expect to get much help from the West which has decided it best to keep the poor in the dark with the US refusing to fund coal-fired power stations- the cheapest and most effective option- in developing nations.
Epstein shares some personal opinions from those effected by this naive "Green" policy of only promoting unreliable and expensive renewable energy to those who really need it:
Another Kenyan, James Shikwati of the Inter Region Economic Network, explains why he resents programs to encourage underdeveloped countries to use solar or wind. The rich countries can afford to engage in some luxurious experimentation with other forms of energy, but for us we are still at the stage of survival. I don't see how a solar panel is going to power a steel industry, how a solar panel is going to power a railway network, it might work, maybe, to power a small transistor radio.
Right now, there are calls to reduce the life-giving, life-sustaining use of fossil-fuels by 80% in order to meet the demands of addressing climate change (and Bill McKibben has apparently called for 95% cuts)- once again we have to ask the question, has a full accounting of both costs AND benefits been done here? Humans have always been, and will always be subject to the vagaries of weather and climate- but it is our technology and skills of innovation that keep us safe.
Epstein claims we are basing policy on bad science and an unreasonable faith in "experts" who have been repeatably shown to be wrong in the past:
many professional organizations, scientists, and journalists have deliberately tried to manipulate us into equating the greenhouse effect with the predictions of invalid computer models based on their demonstrably faulty understanding of how CO2 actually affects climate….
This sloppy use of "science" as an authority, practiced by politicians of all parties, guarantees that we make bad, unscientific decisions.
Alex Epstein is really unimpressed with the call for alarm so far, with on about a half-degree of warming caused so far since industrial CO2 emissions really picked up pace in the first half of the last century; nor is he impressed by the use of unreliable climate model projections on which to base policy. The last thing we should be doing is timetabling the rapid dismantling of the only way we can actually protect ourselves from storms, droughts, floods and sea-level rise: the cheap, abundant energy produced through fossil fuels.
Thus, climate change, extreme weather, volatility, and danger are all inherent in climate whether or not we affect it with CO2 emissions. Thus, when we think about how fossil fuel use impacts climate livability, we are not asking: Are we taking a stable, safe climate and making it dangerous? But: Are we making our volatile, dangerous climate safer or more dangerous?
Environmental policy is based on the ideological and even religious belief that everything was fine and perfect and dandy in the world until modern humans came along with their dirty technology and filthy fossil fuels. Epstein slices through this deceit rather nicely:
the truth is the exact opposite; we don't take a safe climate and make it dangerous; we take a dangerous climate and make it safe. High-energy civilization, not climate, is the driver of climate livability. No matter what, climate will always be naturally hazardous—and the key question will always be whether we have the adaptability to handle it or, better yet, master it.
He concludes with the most important point, again one almost entirely missing from climate discourse (emphasis added):
The climate future appears to be extremely bright. Fossil fuels' product, energy, has given us an unthinkable mastery over climate and thus record climate livability. And its major climate-affecting by-product, CO2, has fertilized the atmosphere and likely brought some mild and beneficial warming along with it. But we can't know how good the warming is because, whether it is net negative or positive, it's completely drowned out by the net positive of the energy effect.
In this essential book, Epstein makes an impassioned call for clarity on what our moral perogative should be in terms of energy, climate and environmental policy:
if we're on a human standard of value, we need to have an impact on our environment. Transforming our environment is how we survive. Every animal survives in a way that affects its environment; we just do it on a greater scale with far greater ability. We have to be clear: Is human life our standard of value or is "lack of impact" our standard of value?
More than just a close analyses and explanation of what is wrong with the anti-fossil fuel movement, Epstein wants us to take action. He wants the fossil fuel industry to stop being ashamed of its product, but rather proudly speak out in its defence; and he wants you, the reader and every-day user of fossil fuels, to join the debate and stand up to defend the attack on our fossil-fuel future.
We don't want to "save the planet" from human beings; we want to improve the planet for human beings.
Mankind's use of fossil fuels is supremely virtuous—because human life is the standard of value, and because using fossil fuels transforms our environment to make it wonderful for human life.
Posted by skepteco on December 21, 2014
https://skepteco.wordpress.com/2014/12/21/what-have-fossil-fuels-ever-done-for-us/
In a follow-up to the discussion last week: Mark Lynas has another post on the issue of climate policies hurting the poor:
There is a very good reason why hurricanes of an equivalent ferocity kill thousands in a country like Myanmar or Haiti, but only a few dozen at most in the US or Australia. To be poor is to be vulnerable, even in today's climate. The fact that only 'climate sceptics' tend make this point currently is somewhat shameful.
For Lynas to say this is very welcome- and brave- and seems highly significant, particularly as he fingers one of the leading climate change NGOs, Bill McKibben's 350.org, saying in response to their "India Beyond Coal" day of action:
The costs of poverty – which includes millions of preventable deaths of young children, lack of access to water and sanitation, reduced livelihood prospects, large-scale hunger and malnutrition, and so on… are clearly much greater than the direct costs of coal burning, and this equation probably still holds even when the future damages from climate change are factored in.
In the comments, Barry Woods calls this "heresy" :
what I don't understand, why Mark hasn't been called a 'coal shill' or 'climate denier' yet by the usual suspects… any sceptic, writing this article would have been, as they have been pointing this dilemma out for years (Lomborg being one such voice, though like most sceptics he has never denied climate change, nor that man contributes)

c'mon. Mark has favourably cited the GWPF, that's heresy.
Indeed I was called a "shill for Big Coal" for pointing out the same thing exactly on Mark's previous post. Another comment points out how the IPCC scenarios are predicated on ongoing economic growth leading to most people coming out of poverty by 2100. Should the poor of today be made to pay for the problem's of the wealthy of the future?
There is nothing wrong with letting the future rich pay for us poor. It is fundamentally unethical to make the poor of this century pay for the rich of this century by promoting the very expensive alternatives. ("No bread? Let them eat cake"). Just ask yourself: how many lives can we save here and now. The future will take care of itself, it always has.
Once again we have to ask: if there really is such justifiable concern over future global warming, why are current policies so hopelessly ineffective at actually reducing CO2, and seem designed only to keep the poor from having a taste of the energy bonanza we all take for granted?
Posted by skepteco on November 24, 2014
https://skepteco.wordpress.com/2014/11/24/lynas-greens-shameful-stance-over-the-poor-vs-the-climate/
Recent Posts

Top Posts

Recent Comments

Blogroll

Categories